At PHYSIODENT we realise that when equipment breaks down this can cause costly disruption to your working day, our aim is to give a good quality service, which includes preventative maintenance (PM) to reduce this disruption. From experience we know that the usual reasons for breakdowns are: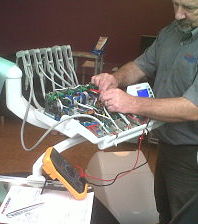 HANDPIECES NOT WORKING CORRECTLY (no electrics, air or water) During a service the delivery unit will be checked electrical connections tested 3 in 1 service kits fitted, o-rings and diaphragms replaced not costly but essential PM
WEAK OR NO SUCTION During a service suction hoses are replaced new tips may also be supplied if needed. Your suction motor is tested and filters cleaned through a service kit may be fitted, depending on age and condition we may also change the tubing from the spittoon to the floor box of your chair (if applicable).
SPITTOON BLOCKAGE During a service the spittoon will be checked thoroughly for blockages we can also quote for a spittoon valve to be fitted which allows all water waste to pass through your suction rather than into your domestic drain, your suction unit should be equipped with an amalgam collector (if not we can quote for.)
FAULTY OVERHEAD LIGHT. Usually these sorts of problems require parts lights are normally reliable. During a service we clean lenses and grease the pole of the light to allow smooth operation
PROBLEMS WITH CHAIR. Again normally a very reliable part of your surgery, during a service we check oil levels, grease and oil moving gears and shafts to keep a smooth motion of your chair. Electrical cables will be examined for flat or bare wire showing and a safety test will be carried out.
LEAKS During our service of the above parts we would have covered all the tubing's through your surgery and examined hoses often a slight hiss or drip is not herd or seen until covers are removed, this would be rectified at time of service before it becomes a breakdown.